Easy-to-Digest Joint Health
Sensitive to your horse's digestive system, the Well Equine formula is second to none in maintaining joint mobility.
One of the biggest problems facing large breed animals are joint ailments, and that is especially true with horses. Due to their large size, a horse's joints can take a beating. Our supplement addresses the entire joint: cartilage, fluid, tendons, ligaments and bone density.
The Liquid Advantage
Well Equine comes in an easy-to-use liquid form. Horses are notorious for having extremely sensitive stomachs and digestive tracts. Well Equine's formula is easily and quickly absorbed directly into the bloodstream and processed for immediate use. Other forms like capsules, chewables, powders and pellets can be much less effective.
Well Equine's Joint Health - Liquid Glucosamine with MSM and Chondroitin is available in 32 oz. bottles or by the gallon.
THE MAGNIFIED POWER OF GLUCOSAMINE, CHONDROITIN AND MSM WORKING TOGETHER.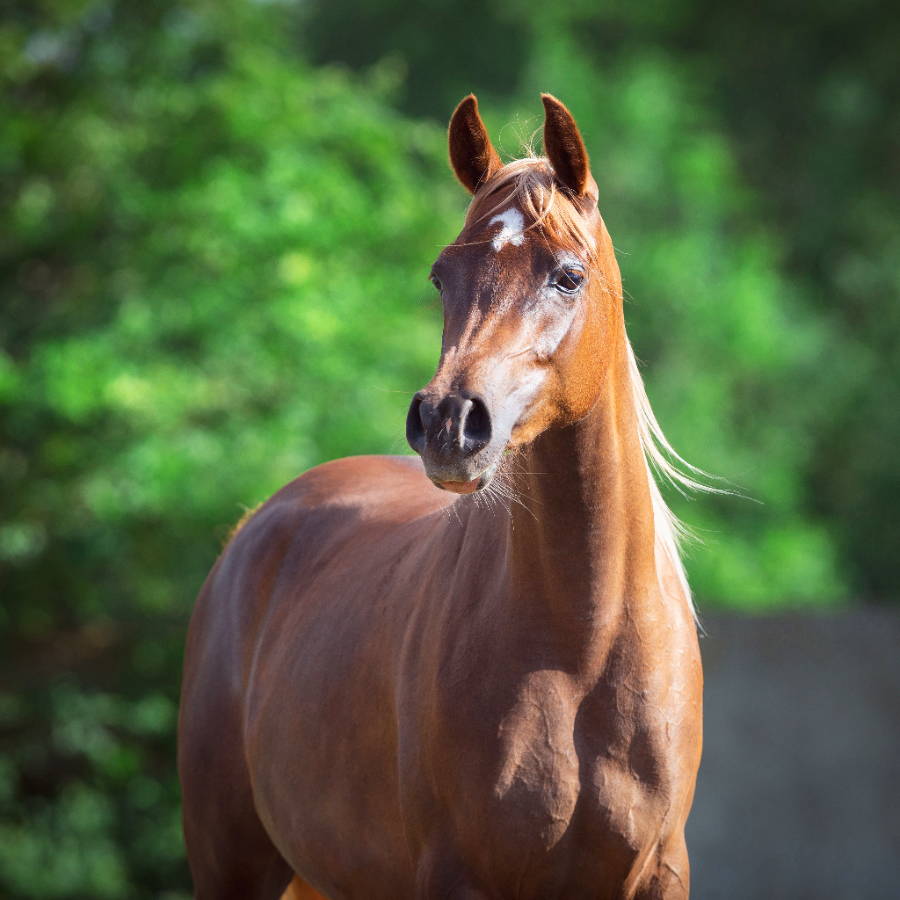 FAQs
"Why should I use Well Equine Glucosamine over Hyaluronic Acid (HA)?"
Hyaluronic Acid is effective, but not orally. When given intravenously there are significant improvements in joint health and stability. Glucosamine, MSM and chondroitin have superior benefits when taken orally compared to HA. Bottom-line, if you don't want to give your animal shots daily, Well Equine is the way to go. Don't waste your money on oral HA supplements.
"I use MSM powder and it seems to work, why should I choose Well Equine?"
Animals with osteo-arthritis will benefit from the anti-inflammatory properties of MSM because the pain will go away. In the meantime, the same cartilage breakdown and lack of synovial fluid still exists and will continue to deteriorate the joint and lead to rheumatoid arthritis which cannot be assisted with a supplement or surgery. It's vital to not just relieve the pain but to support the entire joint while it's still a possibility to do so.
Dosing tips
Use a large dosing syringe (or turkey baster) in the corner of the horse's mouth. Make sure the tip is wide enough to administer the dose quickly and move the tip around the horse's mouth to stimulate tongue movement. Empty the syringe while grasping the horse's jaw and elevating his head until he swallows, gently massaging the throat will help.
Training for the finicky - practice syringe dosing with a tasty alternative such as pureed carrots, yogurt, applesauce, syrup or molasses. You may also mix supplement directly with a small amount of sweet carrier.
Mix glucosamine with oats, food or water if not administering with a dosing syringe. Glucosamine does not need to be refrigerated. Do not administer to cattle or other ruminants.
"I started riding PayDay a year ago. He is a Canadian Warmblood & is 18 years old. When I first started riding him, we noticed that he was always lame & had popping noises coming from all of his joints. We decided to start him on Well Equine Joint Health to see if it could help. Since he has been using it the popping noise is gone. I am able to ride him more often, he enjoys our rides more."
— Callie Sandahl - Johnston, IA